Lakota Wolf Preserve
89 Mount Pleasant Road, Columbia, NJ 07832
BY JACK MIKULA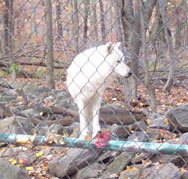 I had been telling my wife (and anyone else who would listen) about a visit I'd made to the Lakota Wolf Preserve in Columbia, NJ (near the Delaware Water Gap). Just the previous week, I'd been standing on a forested mountainside with a small group of people, listening to an elderly bearded gentleman tell about his close friends who lived in four wolf packs. For 90 minutes, our group had been enraptured as he described the wolves, telling us about them as individuals, their relationships, their grief upon the death of a pack member, their loss of a spouse.
This is the Lakota Wolf Preserve, home to about 27 wolves living in 4 packs on the side of a mountain in Columbia, NJ, just across the river from the Delaware Water Gap. This preserve has brought back the wolves which once lived here, but which have been hunted out of existence in this area.
I made a return trip with my wife Micki and 7-year-old nephew Jake, a noted animal lover. From the welcome center, there is a choice of a beautiful (but uphill) half-mile walk to the wolf watch, or a short bus trip. Upon arrival, visitors are usually greeted by a few of the wolves. For most of us, this was the first face-to-face encounter with these magnificent animals. Standing face-to-face, making eye contact, is an unforgettable experience.
On this visit, our guide was a younger man, whose relationship with the packs was different from the older man. Much more factual, less personal, but fascinating nonetheless. Our nephew stood on a picnic table, fascinated, for over an hour without moving. We also saw a red fox, saved from a fur farm, and bobcats, rescued from life in a small house trailer.
The Lakota Wolf Preserve, about an hour and a quarter north of Doylestown, is open daily. There are two daily wolf watches. Times change with the seasons. Reservations are required during the week. For directions and general information, visit their website.